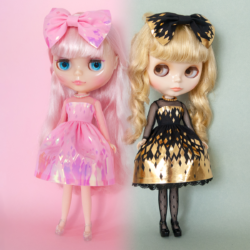 The new collection will arrive at the shop on February 21st at 12:00 (noon) Swedish time! It is called Dazzling Anniversary: Sweet Sixteen.
The clothing set is consisting of a dress and hair bow made of custom-designed fabric with print exclusively made for this release. Also included are petticoats, stockings, and two necklaces. There will be two different colorways to choose between; gold on black, as well as an iridescent hologram on pink and I, will have two sets of each colorway available.
This is an exclusive offering that will not be repeated.
Some commemorative graphics I made for this occurrence.