It is soon time for Yule! I want to give you a present for being so nice to me! Please enter my free lottery!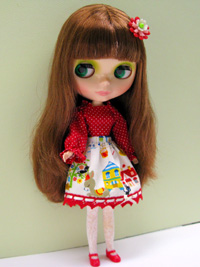 The gift is a clothes set consisting of two items, modeled by Flower Bouquet. The doll, stockings, shoes and hair piece is not included.
Blouse made of high quality red fabric with white polka dots. Elastics along shoulder and wrist. Soft doll velcro closure at back.
Skirt made of nice Japanese fairy tale fabric, gathered to the waist band, trimmed with red vintage lace trim with ribbon decoration and one bow. One metal snap button closure at back.
Do you want the gift? Then please comment to this thread with your name and a working email address. On the Lucia day (13th of December) by 21:00 (9 pm) Swedish Time I will pull out the winner using a random number generator. The winner will be announced here on this site as well as by email to the winner. The set will be sent by normal Airmail shipping.
Good Luck and GOD JUL! (that's Merry Christmas, or more literal: Good Yule, in Swedish)