For the first blog post I wanted to write about the journey of Funny Bunny. First I was going to title it "Where is Miss Funny Bunny?" but then I fleshed out the story.
I got my first Blythe doll the 18th of March 2004. By then my doll collection turned into something serious and I felt "this is me!". I created a site, called Blythe. Not more, and not less. I even traced the Blythe logo to put on my site.
I discussed with some fellow Blythe friends about selling hand made doll clothes. The response was that I should have a "brand" name to be recognized. Someone, I am sorry I forgot who, recommended me to not have Blythe in the name as too many already are Blythe something. I heeded the recommendation and eventually came of the name Funny Bunny. Do not ask me, because I do not remember why I chose that name. Maybe I have been inspired by the animal theme of Squeaky Monkey? Maybe I have been inspired by the funny name of candy vendor machine I used to see around at that time? Or maybe that was Liseberg's mascot that gave me inspiration? I did collect on stuffed Liseberg rabbits when I was young, by the way. They are still up in the attic.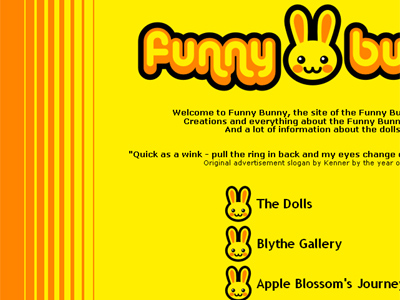 The first site was a bright yellow and orange site, that really was screaming loud. Let's call that site version 1.0. Too loud even, one of my friends even requested me to make a special link for her, to show the site with gray scale background. But it was at the very end. The logo consisted both of the name Funny Bunny and a bunny graphic. The style was more retro than vintage. The site was a static html website, entirely manually coded in notepad. Tedious to update, I remember. Eventually I used CSS to improve the formatting of the site for uniform lookand I also made header and footer files and let the server put them together so I did not have to copy&paste the top and the bottom part of the code for every single page. Version 1.5. But it was still tedious!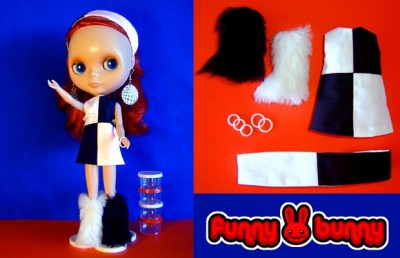 I started making clothes for Apple Blossom, that is my first Blythe, already before she arrived and quite soon I began make clothes to sell. The photo above shows one of the first clothes sets I have made – ever. It even got copied. Ha! The picture itself is the actual picture I used to showcase this set. That's the times, low resolution pictures. Clover stand is there too! Clear sign of newbie! At least I have by then passed past the stage of camera flash usage!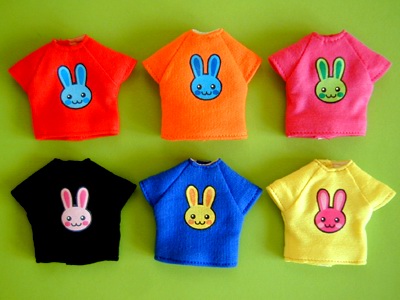 Then I started to crank out t-shirts with the bunny logo as print. I remember it became quite popular. The price was quite fair (or really, unfairly low for me) at the beginning, starting on modest $12, me not really realizing the work behind the tees. I continued on making tees, evolving the style and the materials (and did much needed price increase). Then the market seemed to have became saturated, so now I have stopped making them. There are even still two tees left in the shop, with reduced prices and all. It is easy to say that this fad have passed on. I am happy about it because I disliked the printing process, too high failure rate. Good riddance! (now I have moved over to machine embroidered smocks as what could be seen as my signature item)

The site got many things added and removed. Guestbook, forums, three iterations of store fronts. First being pure html, then Zen-cart, and then Prestastore (the banner above is from the Prestastore version, it was also my graphic profile for packaging and other IRL items by then). I was always frustrated with the very tedious and nerve wracking moments of updating the server software behind the store, trying to stitch my design with the store backbone…
Zen-cart was the worst and buggiest but PrestaStore was still tedious but definitely working a lot better. Now I am on my fourth iteration of shop system.  I am using ECWID, which is a blessing because I do not have to care anything about the back bones as it is stored on their server, not mine! But still it is a small store that you can put in your own site, looking basically seamless, improved even more by editing the style files on their configuration page. Thank you, Ruth, for recommending this software! You basically set it up and fill it with products and then you are ready to go later on, only coming back to do the actual shop processing, nothing more! And no need of separate graphic profile either!
Some nostalgic pictures…
Back to the website itself, I got inspired by Puchicollective and some other sites basing their site on WordPress or similar engines. I settled for WordPress and I am so happy I made that choice even if I was skeptical in the beginning because they still were quite "blog" at that time. It is the easiest thing to update so far! Sure, WordPress gave me (and still give) its share of frustrations too but in comparison it is so much better and comparing it with hard coded html site, the choice is simple.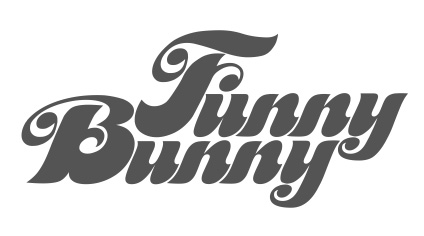 For the new website (version 2.0) of course I wanted to redo the graphics. (the result is this website) I have by then grown utterly tired of the screaming yellow and orange color scheme. I have grown tired of the "retro"-but-not-vintage look. I associate it with the early Blythe fashion, also those made by me. Fashion that looks truly like simple doll clothes, with out-of-scale fabric prints and thicknesses, out of scale buttons, trimmings and decorations. I have by then fallen in love with the more dainty and elegant feeling of some doll clothes, doll clothes with more delicate fabric choices and trimmings that truly are picked out to match the scale. As if it was shrunk down human clothes. Poupée Mécanique was one of my obvious inspiration source there. Maybe too obvious. Still loving Leo's work! Another lovely example of the delicate true to scale feeling I am thinking of would be I have Wings.
Here are some examples: from "these are obviously doll clothes" out-of-scale-ness and/or ill fitting clothes made of too heavy fabrics or yarn thickness…
…to more delicate clothes.. (but, yes, I do still make clothes with choices that are out-of-scale. I know. ;))
The disadvantage of liking the more delicate true to scale style is that it is so much more time consuming to make these clothes. At least if you want to be true to the details. But it is also more rewarding to make.
Again, back to the website. By version 2.0 of the site the old poor Funny Bunny logo disappeared because I could not fit it (him? her?) in the new theme. I wanted to make a new bunny logo. I had by then fallen in love with vintage Japanese fabrics so I based the new bunny on that. More or less.
But I could not fit her in with the new theme – either. So, also poor Miss Funny Bunny. (By the way, the text logo also had to be replaced because the old simply did not fit in either.) Then, further on in the time, when I was about to make a banner for my Spoonflower store front I wanted to finally use Miss Funny Bunny, as I have named her so I tweaked her further, and there she is! She is cute, isn't she? It is the yellow colored version, more detailed and more cute. I sometimes get the urge to re-do the Funny Bunny theme for this site to a more cheerful theme that would remind of Sanrio world or something. But I am trying to resist it. I will try to find more use for her eventually! I have ideas of incorporate her as design on a new Blythe helmet style.
So there, now you have gotten to know about the Funny Bunny iterations, the sewing and what happened with the bunny. I hope it wasn't too boring.