I have been so secretive about this, which I am sorry! Many of you know I have done an amazing trip to New York City, and attended to BlytheCon as a vendor.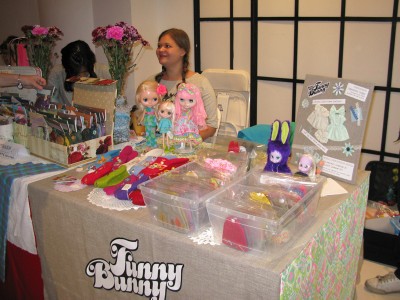 The reason of me being so hush-hush about this is that I was so paranoid about the rules of non-resident selling in the States. But it went without any problem at all and I am pleased to say that I had a blast, met so many wonderful people! I almost sold out my vendor stock too, which is like day and night compared to the BlytheCon UK 2010 experience.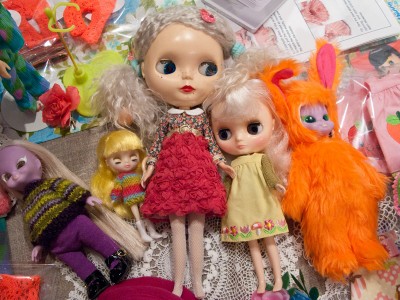 As said, I met so many amazing people, talented, crafty, wonderful, nice, great… My regret is that I did not stay at every table, talk to everyone of you, photographing, photographing you with your dolls, walk around talk with the attendees.. But I am sure this is a feeling many have afterwards! We were all *big eyes* and the vending was a whirlwind. To think of that I was worried it would be too long time on the whole day for me, it is the opposite! I wanted to stay there longer time, which was evident that I was one of the last ones to pack the table. As you can notice here, I took only very few photos and quite bad ones on top of that! Bad me!
[miniflickr user_id="80066810@N00″ tags="blytheconnewyork2013″ tag_mode="any" per_page="22″]
I also had the pleasure to join the demonstration of amazing Momoko (Momolita), a famous Japanese designer! As an example she has done collaboration with Junie Moon creating a Blythe doll for us to buy, named Ultimate Tour. I do not have that doll but it is so fun to meet the designer in person! She demonstrated on how to make the dress she brought patterns for. I decided to attend because even if I have sewn since preschool age, I still want and strive to learn new things, and boy, I did learn new things! Momoko is so sweet too! (once home I hurried to recreate the dress in my own choice of fabric, as of not to forget the techniques)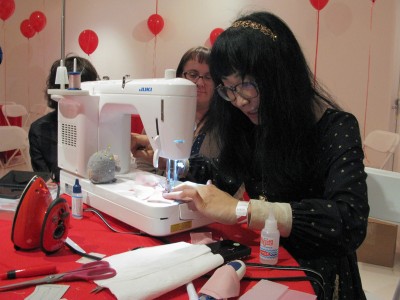 After the BlytheCon event we (my guy and I) spent one week in New York city, and  did some touristy things and shopping, also had the best sushi omakase experience ever. It is the best trip I had ever so far and I miss the city and the people so terribly much.