If you go to the shop and buy an electronic postcard you are legible for one ticket for this raffle! The Grand set it is called, I have been working so hard with this set and my model Lemon Curd is so much in love with it, I had to pry it off her hands. I hope you will enjoy it!
The Grand Set consists of six pieces, for NEO/KENNER BLYTHES:
One Special Anniversary Funny Bunny Helmet of purple wool felt and complimentory vintage fabric lining. Embroidery motifs of Miss Bunny and the logo, matching to the set. Trim and vintage button decoration below one ear. Orange snap button closure.
Short puff sleeved knee length dress of vintage fabric. Trims at sleeve hem, around the neckline of vintage Japanese lace trim.  Square neck line. The bodice is stitched with decorative golden thread into a V shape.  Same golden thread stitched along the hem, the hem is also decorated with vintage scalloped trim. Two golden metal snap buttons closure at back.
Overskirt made of lilac chiffon fabric. Trimmed with fun lace trim I bought in New York city last autumn.
Underbust corset made of purple mini corduroy fabric, trimmed with "tinsel" thread, golden metallic thread and decorative buttons to simulate busk hooks. Lilac eyelets in back for the lacing. Golden metallic yarn for the lacing. There are three sets of lacing included. The eyelets have been treated with fabric glue to not snag on the underskirt fabric.
Tights made of dark orange mesh.
Silly petticoat made of wide vintage broderie anglaise lace trim, Liberty fabric and ric rac decoration. Elastic waistband.
The doll and/or shoes are not inluded in this set.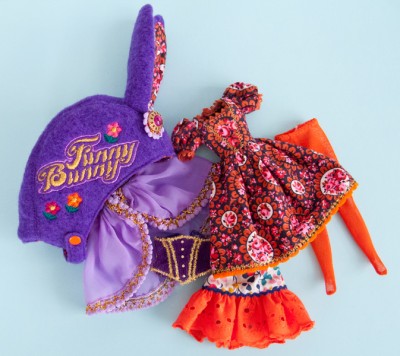 Want this set? Go to the shop and buy one electronic postcard per ticket. The postcard cost $5 each. Then I will add your name to this list below. On the 18th of March I am going to use random.org to choose the winner.  The first number to appear would be the winner.  Good luck!
The List!
01: Lala
02: Lala
03: Roz B
04: Roz B
05: Elizabeth T
06: Yi Ting Koh
07: Hilary A
08: Linda Holland
09: Virginie S
10: Virginie S
11: Clare B
12: Amanda R
13: Laurinda I
14: Samantha C
15: Adele M
16: Kimberly M
17: Monica T
18: Fae F
19: Fiona B
20: Heidi A
21: Julie W
22: Ruth C
23: Ruth C
24: Ruth C
25: Ruth C
26: Ruth C
27: Ruth C
28: Ruth C
29: Ruth C
30: Ashley S
31: Ashley S
32: Ashley S
33: Ashley S
34: Rebecca P
35: Dominique W
36: Chun Fu
37: Maria Y
38: Megan M
39: Megan M
40: Megan M