The Funny Bunny Anniversary Small Set!
If you go to the shop and buy an electronic postcard you are legible for one ticket for this raffle! I have named this set The Small Set because it is a smaller set, and it is for a little smaller Blythe, the Middie Blythe.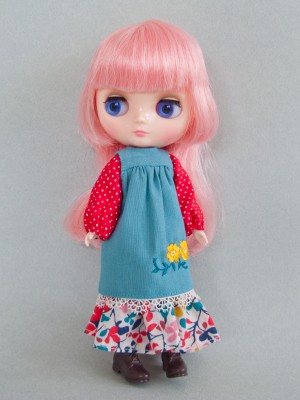 The Small Set consists of three pieces, for MIDDIE BLYTHES:
Machine embroidered smock on cotton fabric. I do not know how to describe the color so you can look for yourself instead. Petrol blue? The motif is one pair of yellow pansies, color for flower and leaves matching to the ones on the skirt fabric. Hem is trimmed with very delicate antique lace trims, one of my very much cherished small pieces of antique lace trims, but finally this time I decided to start to use it! Two metal snap buttons closure at back, the smock opens fully for easier dressing.
Blouse made of red fabric with white polka dots. It is raglan cut in shape. Velcro closure at back.
Tiered skirt made of Liberty fabric. I think it is Liberty fabric! Nonetheless I love it much, it has so nice feel. I bought it at Purl Soho in New York city last autumn. :) One metal snap button closure.
The doll and/or shoes are not inluded in this set.
Want this set? Go to the shop and buy one electronic postcard per ticket. The postcard cost $3 each. Then I will add your name to this list below. On the 18th of March I am going to use random.org to choose the winner.  The first number to appear would be the winner.  Good luck!
The List!
01: Aimee T
02: Aimee T
03: Hilary A
04: Amanda R
05: Fiona B
06: Ruth C
07: Ruth C
08: Chun Fu
09: Chun Fu
10: Chun Fu