The last giveaway!
And for the last giveaway I am offering a prototype of  the "Bunny Dress" for Neo Blythe.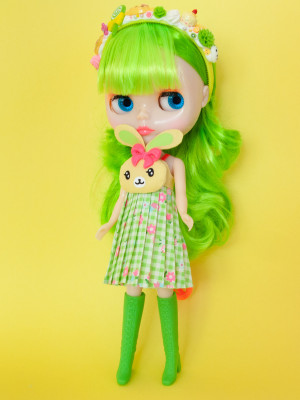 You may recognize parts of this dress from the dresses I sold on Blythecon Chicago 2015. This is the last prototype before the production dresses but there are minor differences: The skirt length is longer and less flared. The shoulder straps are separate of satin ribbons (instead for being part of the cut). The bunny head's ears are a little higher up, covers more of Blythe's mouth.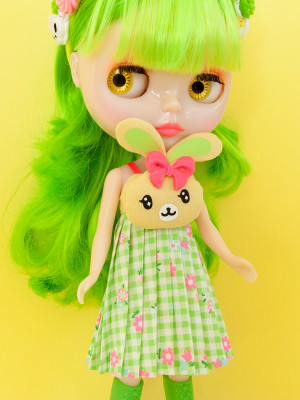 The Bunny Dress:
Made of cute exclusive Japanese fabric with cheerful green and pink gingham print. The bodice is made of pale yellow cotton broadcloth. (a little inferior in quality than the production ones being coarser fiber) One metal snap button closure in back. Just like with the production dresses there's a pom pom ball to simulate the bunny's tail! The shoulder straps are neon color satin ribbon.
The Bunny head. Made of same fabric as the bodice. Iron on vinyl transfer for the eyes and mouth detail as well as the ears. Homemade polymer clay "ribbon bow" as decoration. Clip on the back of the bunny head to rest on the bodice as intended to simulate a full Bunny, or position it on Blythe's hair!
Please consider that Blythe doll, boots and the Glamourfae headband are not included in the giveaway.
Enter a comment below here on this page with your name and working email address in the fields and I will add you to the list! On the 31st of March, I am going to use random.org to choose the winner.  The first number to appear would be the winner.
Good luck and hope you will win!
The Giveaway List
01: Joey Gomez
02: Amy Evans
03: Jacqueline Low
04: Angela Hinojosa
05: Molly Linn Eriksson Löwenmark
06: A Marley
07: Kristy Schaedel
08: Wendy Schneider
09: Amaia de la Fuente
10: Kathi Litzenberger
11: Cara Barfield
12: Jordana
13: Rita Neves
14: Elizabeth Taylor
15: Morgan Johnston
16: Deeya Loram
17: Arlene
18: America
19: Andrea Taylor
20: Biz M
21: Rebecca Bowie
22: Angela Reece
23: Danielle Blezin
24: Julie Westphal
25: Angela
26: Olive K
27: Denise Farinsky
28: Melissa Lymburner
29: Cerene Maeva
30: Julie
31: Janet
32: Jenny Archibald
33: Myra Lo
34: Cammy Thomas
35: Katie Saarikko
36: Jennifer Joy
37: Toety Liang
38: Sabine Menke
39: Michelle McKee
40: Filipa Valente
41: Marta
42: Lisa Perecman
43: Pixarina
44: Tab McDougall
45: Mandy
46: Bec
47: Rebecca
48: Maria Yeoshen
49: Sally Thorne
50: Gwen Thompson