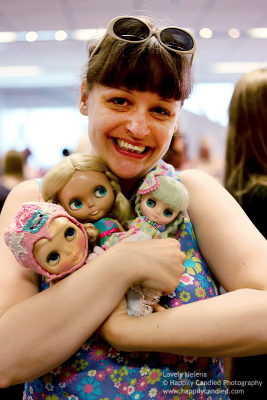 Hello, my name is Helena Hultén and I live in Sweden. I love vintage fashion and aesthetics. I like to design and sew. Vintage and vintage looking dolls are fantastic as muse and models. So that's how I began with collecting on dolls.
When I began with Blythe dolls I felt that I have found something that is really clicked with me and eventually also Emerald Witch dolls for a slightly different aesthetics.
Finally also Sindy dolls, who at beginning I thought were boring but they grew on me as I became more nostalgic, because a Sindy doll is what I had as a little girl, a blonde one which I sadly lost.
Then I eventually went into a pastel colors phase and rediscovered my love for My Little Pony toys, those from the 80s.
I also like other dolls that are of similar aesthetics, for example the so called pose dolls (vintage boudoir type dolls from Japan and Korea) and the Odeco Nikki dolls.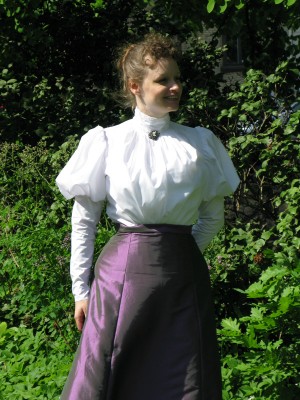 I am a craft addict. I am the one who have to try out every kind of craft and be done with it. With that comes a big stash of materials and tools. Most people know of me for my sewing but I certainly do not want to limit myself to that.
I do not only create physical items, I like to create digitally too. Vector drawing in CorelDraw, if I may say so I am quite good on that one. I also use that software to create sewing patterns, mostly doll size.
Craft something digitally and then turn it into physical product is something I really enjoy and I have tried on making graphic prints for fabrics, and oh how fun is that! In that category I also create machine embroidery design files by hand digitizing (using the software Embird Studio), a whole science on its own. And then eventually I also began with using a cutter machine to cut out designs. Initially I bought it to simplify the process of cutting fabrics only to discover it is not suitable at all for that but then I love it to cut out paperwork and to cut vinyl iron on designs for my fashion.
I also like to dabble on other digital producing aspects such as programming and 3d modeling.
And as a last footnote I like to sew human clothes too, but only for myself because I can't deal with the different sizes. By then I like to make historic garments and I love to geek so much into the research process.