Emerald Witch is a cute doll released in 1972, by Girl's World/Amsco, Milton-Bradley. There's not very much information online about her (yet) so I've decided to write about her and her quirks. I have six Emerald Witches so here's a load of information I have gleaned from my work on these dolls.
Emerald Witch stands about 15 cm tall. Her body is chubby and cute. Her main feature is her eyes; if you put a battery in her battery compartment a light will flash through her transparent green eyes, particularly if you shake her. There are no on/off switch so the battery will run out quick if you leave it in.
Her skin is light purple and her hair is rooted with mint green hair.
If the battery cover is still there it should read 1972 Girls World Pat. Pend.Made in Japan.
Information and restoration
It is fairly easy to restore her outer appearance if you're used to restoring dolls. But it is unfortunately hard to restore the mechanism if it is broken or corroded. If you are about to buy an Emerald Witch and want to see her light up it is better to buy a working one from the beginning. Ask the seller!
Head & Makeup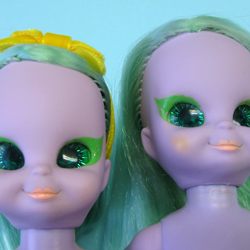 The head can be carefully removed from the body with a tug. Use Mr. Clean Magic Eraser sponge to remove dirt from her face. Stay away from the makeup as the sponge does a very good job on removing that as well. You can also use wet cotton tips to swipe around, for example in the eyes. The head can be submerged into water. (read the hair section first!) The first photo shows two Emerald Witches with different makeup. The left one, in minty shape has almost no cheek blush. The right witch, a little more played with, has a lot of blush.
To put the head back on the body: see photo 2 below here, in the hole inside the neck there is a groove. The edge of the neck should go into this groove. There's a notch on the edge to make this easier. Often when you buy a played with Emerald Witch the head may be put on incorrectly, too deep down on the neck. And with age, the vinyl corrodes the plastic of the body. (this is normal, because of the ingredient in vinyl plastic that makes it soft creeps over to the hard plastic and deforms that, so never store vinyl together with plastic) That may leave a mark on the neck. If it is severe-looking you may cut a strip of sanding paper/foam and put it around the neck and slide it around until you're satisfied with how it looks. Use finer grain sandpaper until it is smooth.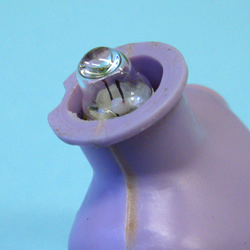 Hair
This is a big caution! The hair will shrink if it's put in too much hot water. So when you wash the head and/or the head do not use too hot water. It is better to use colder water. (hand temperature or colder). Do not use any kind of hair treatment that involves heat. Ironing, flat iron, curling iron, boiling, all these things are bad for Emerald Witch's sensitive hair. Trust me on this one, too many people, including me, had bad experience with watching the hair clump, burn, shrink, frizz up or all at once.
You can wash the hair with shampoo, soap, conditioner or what you prefer, but stay away from hot water and rubbing. I use shampoo and then conditioner if the hair is in fairly ok shape. If the hair is really dirty I use dish detergent (the hand dish one, obviously) first.
Body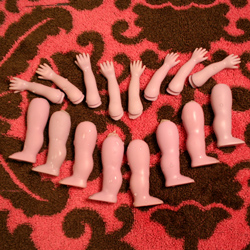 The body should not be submerged in water unless the mech is really broken and you're okay with it. The legs and arms can be removed, if you do it very carefully. That way the parts can be washed separately and you can clean the arms and legs in running water. To put the legs and arms back in, you push in as much as you can. If some part is sticking out stubbornly you can use a blunt rounded end (wrong end of crochet hook for example) to poke it back in. Do not use too much force or you may pierce the material. The torso can be cleaned with Mr. Clean Magic Eraser sponge and by using a wipe cloth dipped in water.
You may notice that the "seam" edges are brown/yellow to some degree. It is normal, almost all Emerald Witch has this. In the factory when they put together them they glued the seams together and usually the glue creep out. And the seams does not even up to 100% so there may be more glue visible on some parts to "make up the difference". As said this is normal, and you should learn to live with it. These girls are vintage! :) But if you're really hating this you could sand it. But the glue is pretty thick so you may have to sand for a while. Do not use Dremel, it will melt the plastic. And if the seam is pretty much uneven one side may get too thin and prone to crack?
If the body is scratchy you can use fine sand paper, working your way to finer grain, and then polish with plastic polish and she will have a shiny belly!
The inner of the body? It is not really possible to open a witch because of that they are glued together. So that's why I recommended you to buy a working one if you want her to flash her eyes!
The Mechanism
The Battery
The battery to use is one AA battery. In my experience it is hard to remove the battery when it is put in. To make it easier I put a ribbon or a yarn around it before putting it into Emerald Witch. Another way is to put a tape "handle" on it. Also, be real careful when inserting the battery. Do not apply any force. It has unfortunately happened me that the lower metal part came loose by inserting the battery, which is not repairable without opening the body.
The Lamp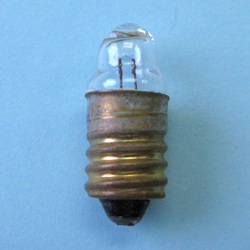 Technical info:
Lens Top
Base type: E10
Lamp width: 9 mm, height: 23-24 mm.
Voltage: 1.1 Volt, Ampere: not sure
I have not really been able to find 1.1 Volt light bulbs with the above specifications online or locally. But I did find some 1.2 Volt ones. These can be used, but the light is very faint by then, almost only visible in dark.
Here is the only page online I could find of the 1.1 Volt, but I think they've got high minimum order since they are manufacturer and wholesaler.
Be careful when removing the light bulb. If a little child in the past has bathed Emerald Witch too often it may be corroded and made the metal stick together. If the lamp is tested as faulty or even smashed, and it is stuck you may use a plier to squeeze between the metal layers. But this often causes the lamp holder to go out of shape.
Troubleshooting list
Battery should be fresh and working.
Carefully pull off the head. Is the lamp there? Check the socket looks okay, and that it is not detached or moving.
Is the metal battery contact free from corrosion in the form of green discoloring or other?
Verify with the parts shown here. Are all parts intact?
Bottom part. There should be a big metal tab on the bottom, and it should be in touch with the battery. It is held in place with the small metal eyelet above the metal tab.
The top part is actually the exposed bottom of the light bulb. Is it touching the battery? And is it free and no metal in way that would short-circuit to the side of the light bulb? The close-up photo of the top part shows how it looks like when the light bulb has been removed.
The rectangular hole, the weight: There's a metal weight attached to a spring steel. When you shake on the witch it should move freely, but not be broken off.
The rectangular hole, the metal ball: You hold Emerald Witch head down, holding the doll above your head, and looking up through the rectangular hole. By then, on Emerald Witch's bottom of the rectangle you should be able to see a metal ball. The metal ball is encased in a small "box" of plastic. The ball should move freely. If you hold Emerald Witch upright (her head up) the ball should move down and not be visible anymore. This very step is not as important as the other steps, as Emerald Witch can work without this.
Now that's all the parts you can see without opening the body.
Opening up Emerald Witch (NOT RECOMMENDED!)
If you really want to open up your Emerald Witch to repair her you should first be sure that all the parts are at least there or you are knowledgeable in how to get a lamp to light up and how to improvise something to get it to work.
Emerald Witches are glued together at the factory and are very hard to open without fracturing the torso. There may be some Emerald Witches that have been glued together very poorly that the seams are open at many places. You can test by carefully pushing the body apart, removing head, arms and legs, examine around. Do not try to pry the body open. You may be lucky and she opens up.
If Emerald Witch's torso is already fractured by hard playing or previous attempts to open you may saw her open through the seams. Do not use a knife, it may slip and you may get "prying" marks, whitened plastic or stress marks. Use a saw blade that is as thin as possible. The torso will be smaller as when you are sawing you're removing some plastic. And it will be hard to line the body up when gluing it together again. So I do not really recommend doing this unless you're desperate and do not care about the result of the body. In my opinion it is better to have an Emerald Witch with pretty looking original untouched body but broken light than a working witch with ugly cracked/sawed open body with uneven seams. I won't explain how to repair the mech since if you want to repair her you should already be knowledgeable about electrics, soldering and repairing and I've written above about trouble shooting.
Tools to use in the restoration work
Mr. Clean Magic Eraser sponges (original and plain)
Norton 3X Contour Sanding Sponges yellow and red
Thanks to Mat for English language verification!