Amanita Muscaria Toadstool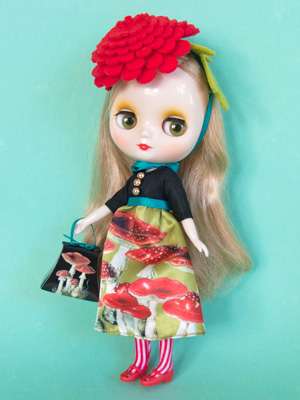 Name:
Amanita Muscaria Toadstool

Stock doll:
Takara Middie Blythe Nekogutsu Zukin

Birthday:
March 27th, 2013
Favorite fungus:
Toadstools
Modifications:
None
Note:
I love the crazy doll collaboration with Muchacha/Ahcahcum and I got Violette Plum which is a rerooted Ahcahcum Zukin. So when Junie Moon announced about Nekogutsu Zukin, I had to buy her!
The name Nekogutsu zukin means Cat shoes hood if I am not terribly wrong. Crazy! I love Amanita and her bold red lips. I love bold makeup.
Oh, by the way, Amanita Muscaria is the latin name for… Toadstool.
Latest photos of Amanita Muscaria Toadstool.