Candy Pink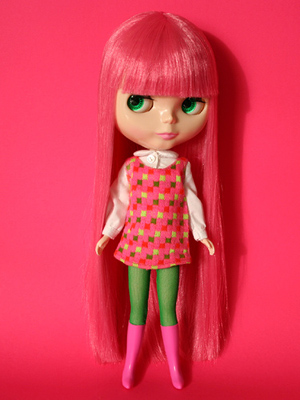 Name:
Candice (Candy) Pink
Stock doll:
Takara Blythe ROK-EX Velvet Minuet
Birthday:
August 6th, 2004
Favorite food:
Sashimi
Modifications:
Saran reroot, eyemakeup removed, gaze corrected and pink eye-chips installed. Eyeballs whitened. Pull-ring replaced.
Note:
Candy Pink sold all her clothes and traveled nude from Hawaii to Sweden in order to receive a big makeover. Now she is a girl with lots of attitude. Candy Pink has got a big ego and she loves to strut around wearing what she thinks is luxury clothes, vintage Mattel clothes and the occassional Funny Bunny wear.
Candy Pink has also found a new friend in the new comer Cupcake!
Candy Pink was my first big custom project, first time to try out that interesting but time consuming process of rerooting hair. It was also the fastest reroot, of 6 days. Novelty, I tell you!

Latest photos of Candy Pink