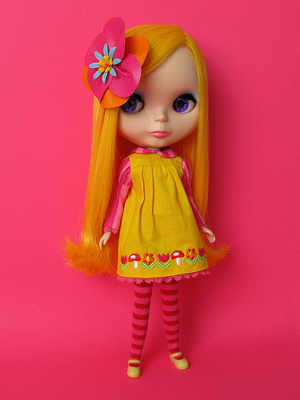 Name
Cupcake
Stock doll
"Frankenblythe"
Birthday
February 25th, 2008
Favorite color
Hot pink
Modifications
Saran hair reroot, lip repaint, new eyechips and thicker eyelashes installed. Pullring replaced.
Note
I liked the Blythe release called Feel The Sky but I was not keen on the Superior face mold so I bought Hollywood face plates and Fruit Punch scalp, and I completed with a random Excellent body I had lying around at home. A real Frankenblythe. After a while and some work later, Cupcake emerged as a bold and colorful girl!

After a few years she set away on a life journey of her own and now she is staying with a new family and she loves the attention she gets there.

Latest photos of Cupcake