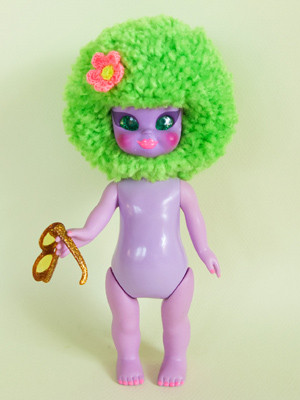 Name
Dorotea Lime Zing
Stock doll
1972 Girls World Emerald Witch
Birthday
October 16th, 2008
Second Birthday
January 9th, 2015
Favorite Pastime
Casting relaxing spells
Modifications
Full custom done by Dr. Blythenstein
Note
Dorotea was a humble little witch until the other members of the coven sent her to Dr. Blythenstein for a complete makeover, a complete reimagination for both body and soul. (She was actually the first Emerald Witch to become a yarnhead!)
Since then she has become a groovy witch and has found her niché, casting relaxation spells and make other people relaxed! Dorotea is also a nudist. She love to show off her beautiful manicure and pedicure.

Photos of Dorotea Lime Zing