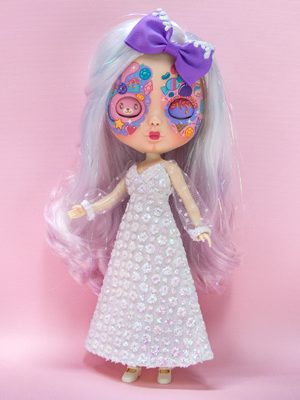 Name
Fairy Sprinkle Puff
Stock doll
Takara Blythe RBL+ UFO a GoGo
Birthday
November 10th, 2017
Favorite hobby
Making decoden accessories
Modifications
Full custom CaramelPop Blythe doll by Caramelaw!
Note
Sprinkle is a custom Blythe doll made by the talented Sheena of Caramelaw! I have always coveted her work and I think she's amazing with the work she do, both with the dolls and with her more traditional graphic work. (it is a true eye candy!) So I was happy to finally to work with her and to have a doll of my own!
One thing I enjoy in particular is that she painted the Miss Bunny mascot as a part of the face paint! Clever!

Sprinkle loves to play with her characters and critters that came together with her (there were quite a LOT!) and she loves everything kawaii!
Recent photos of Fairy Sprinkle Puff