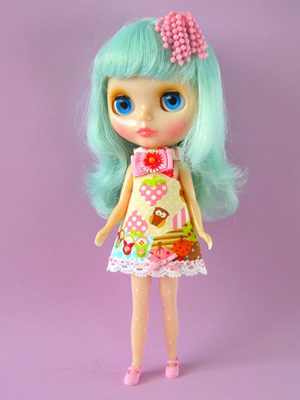 Name
Icemint Popsicle
Stock doll
Takara Blythe RBL Miss Sally Rice
Birthday
September 1st, 2008
Favorite clothes
Vintage Skipper fashion: Sunny Pastels
Modifications
Fringe touch-up
Note
When I got to know that there will be a new doll release that would be of same style as Mrs. Retro Mama, I knew already by the initial stage that I had to get her! She is so beautiful and the translucent skin is even better here, pure perfection! The only regret I have is that I did not buy more of this release!

Popsicle like to hang out with Lemon Curd and Lollipop and she has an affinity for pastel colors.
Latest photos of Popsicle