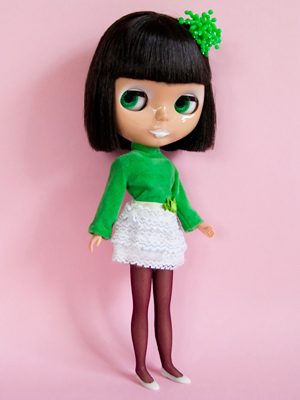 Name
Lily Valley
Stock doll
Takara Blythe RBL Prima Dolly Ebony
Birthday
September 24th, 2009
Favorite hobby
Collecting vintage beauty products
Modifications
Hair cut, airbrush eyemakeup, lip repaint, new eyechips and matching pullring.
Note
Lily Valley is my first and only custom Blythe that has airbrush makeup painted by me. Now I do not have airbrush tool anymore because it broke. I never got happy with my paint work. It was really hard. But I managed to get passable result with Lily Valley so she is the exception!

Lily enjoys studying about the mod era fashion and is hoping to get more mod clothes!
Latest photos of Lily Valley