Lily Valley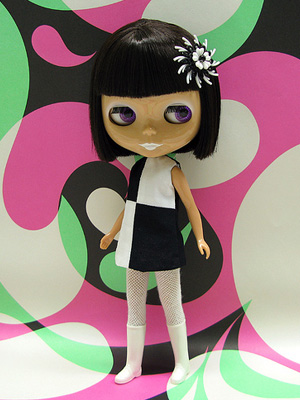 Name:
Lily Valley

Stock doll:
Takara Blythe RBL Prima Dolly Ebony
Birthday:
September 24th, 2009
Favorite hobby:
Collecting vintage beauty products

Modifications:
Hair cut, eye-makeup airbrushed, lip re-paint, new eyechips and matching pull-ring.
Note:
Lily Valley arrived together with the other three Prima Dolly girls but only Mayonnaise and Cloudberry Grove got presented right away. Lily Valley had her concept idea going on for a long while until I finally bought airbrush tool, and then it took a while again, to master the art of airbrushing… Lily is a very patient girl and now finally she is finished and could be presented as a Funny Bunny girl.
Now she enjoys studying about the mod era fashion and is hoping to get more mod clothes!
Latest photos of Lily Valley