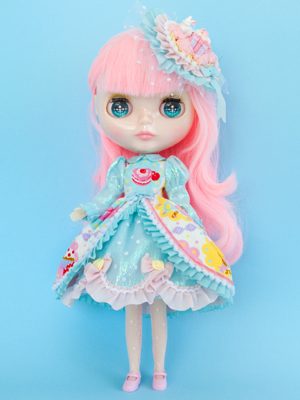 Name
Lollipop
Stock doll
Takara Blythe RBL Phoebe Maybe
Birthday
May 31st, 2011
Favorite food
Banana Split
Modifications
Nylon hair reroot, eyechips change and sleep eyes installed.
Note
Popsicle, Miss Sally Rice is amazing and in particular together with with Lemon Curd (Mrs. Retro Mama). However, I felt something was missing. Something pink. I waited patiently watching CWC making one after another translucent girl with more or less natural hair colors so I decided to buy Phoebe Maybe with the goal of giving her a hair reroot. Basically taking the matter in my own hands!
She was also given Macoto-style eyechips that I have made, to play on the Showa era feeling.

Latest photos of Lollipop