Lollipop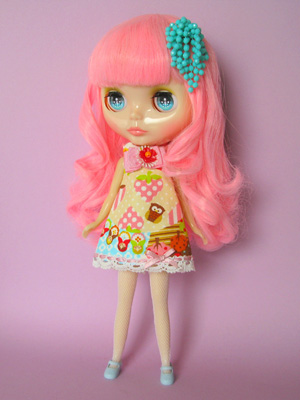 Name:
Lollipop
Stock doll:
Takara Blythe RBL Phoebe Maybe

Birthday:
May 31st, 2011
Favorite food:
Banana split

Modifications:
Nylon hair reroot, eyechips change and sleep eyes function added.

Note:
Popsicle, Miss Sally Rice is my favorite stock release and together with Lemon Curd (Mrs. Retro Mama) it is awesome but I felt that they need a sister with pink hair to make a balanced trio! I waited patiently but CWC made one after another translucent girl with more or less natural hair colors so finally when Phoebe Maybe came out with her lovely face makeup I decided to take the matters in my own hands and did a reroot!
The name Lollipop has been recycled. But it suits her so well, doesn't it?
Latest photos of Lollipop