The Pose Doll posse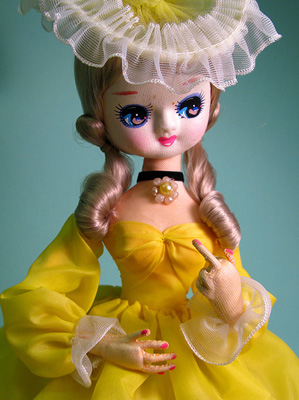 Stock doll:
Pose dolls from different companies.  Bradley is one such company.

Note:
I fell in love with pose dolls (also called boudoir dolls) when I saw photos of dolls that has been customized neatly, as well as original stock pose dolls from Japan wearing mod style clothes. I love their faces!
After a long while of being unsure and not being able to find any I like, I found one I liked and I bought her for the purpose of changing the clothes on her. But when I received her I changed my mind and wanted to kept her basically as is. (the idea is to change the trims and also the hat) It is this doll that is shown to right here. (excuse her bad manners)
I soon bought two another ones. One of them I removed the clothes and had the idea of giving her vintage nurse clothes including the mouth cover because of a scratch on her nose. I am almost finished with that one.
Then I saw a lot of almost 40 pose dolls and I bought them. Now I feel overwhelmed instead, and have moved on to something else… I tell you, some moderate control is good!
Latest photos of the pose dolls
[miniflickr user_id="80066810@N00″ tags="posedoll" tag_mode="any" per_page="12″]