I have begun to collect on My Little Pony now. I am only interested in so called G1, the first generation of ponies that were sold in the 80s and a little bit in the early 90s.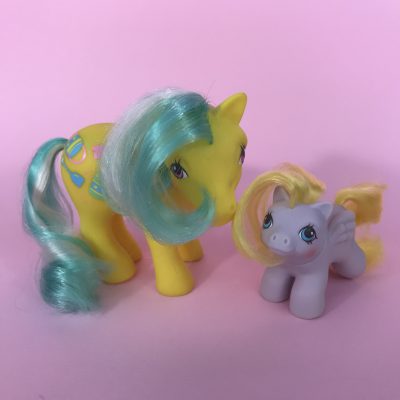 I had five ponies and the Dream Castle when I was a child. The ponies were Baby Apple Jack and Baby Blossom, as a duo package, Majesty, Trickles and Shady. Due to a mistake in storage, these are gone now so I do not have any of my childhood toys.
Vintage
Earth ponies
Lemon Drop (1983-84)
Cherries Jubilee (1985)
Posey (1985)
Tootsie (white European variant, 1985)
Rainbow ponies
Parasol (1983)
Confetti (1984-85)
Flutterbye (1984-85)
Trickles (1984-85)

Unicorn ponies
Majesty (1983-84)
Powder (1984-85)

Pegasus ponies
Firefly (curly hair version, 1984-85)
So Soft ponies, also including NSS
North Star (Not So Soft European variant, 1985-86)
Shady (Not So Soft European variant, 1985-86)

Baby and Newborn Baby ponies
Baby Firefly (1984)
Baby Cotton Candy (1984)
Baby Apple Jack (1984-85)
Baby Blossom (1984-85)
Baby Cuddles (1984-85)
Baby Glory (1984-85)
Newborn Baby Speckles (1987-88)
Sea ponies
Baby Sea Breeze (1986-87)
Princess ponies
Princess Serena/Aquamarine (1986-87)
Princess Royal Blue/Sapphire (1986-87)
Sundae Best ponies
Crunch Berry (1986-87)
Sherbet (1986-87)
Merry Go Round ponies
Brilliant Blossoms (1988-89)
Tassels (1988-89)
Candy Cane ponies
Sugar Apple (1988-89)
Sugar Sweet (1988-89)
Sunshine ponies
Sand Digger (1988-89)
Rainbow Curl ponies
Raincurl (1989-1990)
Playsets
Dream Castle (1983)
Reproduction by Basic Fun
Windy
Bow Tie
Recent photos of My Little Pony
Also including photos of other people's collections and other related photos.