Don't want to miss out the updates to the shop? Then I would suggest you to join the Facebook group! Please do not hesitate to write a post if you have something you wish to see or to reappear in the shop.
T-shirt for Neo Blythe: 80's
00345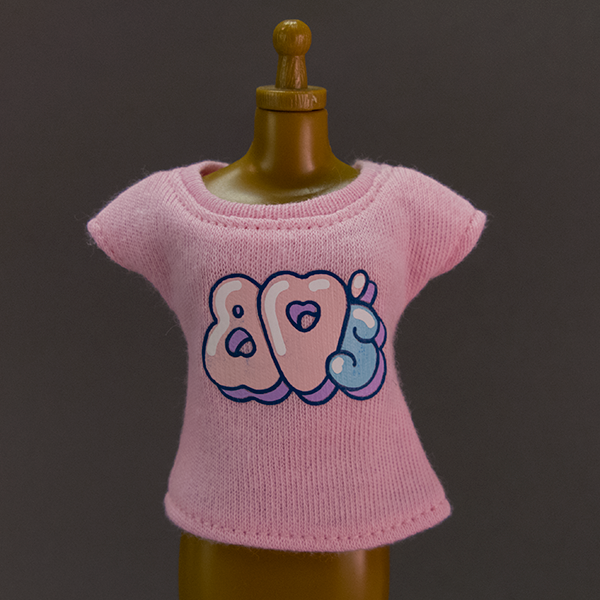 I am re-introducing t-shirts!
People who know me since ages know that I have been making t-shirts of different types through time.
This time I have upped the level a few notches!
The t-shirt itself I have perfected the pattern fit, and then I have sewn it with extra thin thread (FUJIX Schappespun #90 or Premier TicTic, depending on color) to make it more scale appropriate, a constant strive for higher quality.
The motives are hand drawn and then drawn in vector software, then to finally turn into cutting files, to be run on my cutting machine. I cut every layer of color, then I carefully with good eyes and strong light, using picks and pincers remove the teeny tiny bits that aren't going to be there. It takes about 20 minutes per design! But I think it is so much better than doing the old 4-color inkjet/laserjet route, right? Much more vibrant colors! Special colors! Glitter! Metallics! Iridescent hologram! Velvet! (I know, I have made things with these iron-on vinyls since 2015, but still.)

This motif was hand-sketched by me from scratch, and then perfected on computer. It has 5 layers of colors.

Base fabric is pink. Print: Light pink, robin's egg blue, violet, white as well as dark teal smooth vinyl.

Soft doll velcro closure at back.

And oh, the second photo show the fit of the t-shirt. It is designed to be fit on Neo Blythe size. But as you can see it still is nice on Middie Blythe too! As a kind of oversized fit! What do you think? You decide!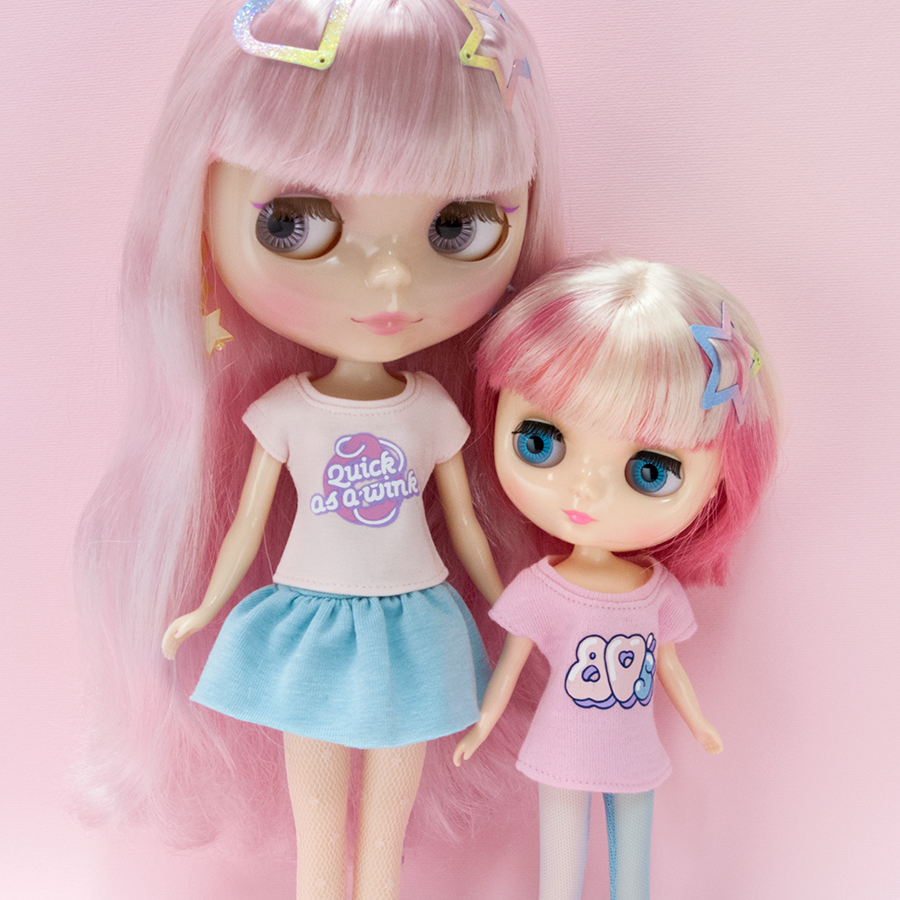 Size chart
Neo Blythe: The normal Blythe size, the biggest of the three sizes. Kenner Blythes, Ashton Drake Group Blythe, Takara Neo Blythe BL, EBL, SBL, RBL, FBL. Some other dolls such as Takara Licca and the early vintage Mattel Skipper may also be able to wear the clothes. Doll height: 29 cm, body height: 17.5 cm.
Middie Blythe: This is the newest Blythe size, in between Neo and Petite. There are only Middies from Takara. Doll height: 20 cm, body height: 12.5 cm.
Petite Blythe: This is the smallest of the Blythe sizes. Takara Petite Blythe and Hasbro Littlest Pet Shop Blythe. I do currently not have clothes for this size. Doll height: 11.5 cm.
Emerald Witch: Doll height: 17 cm.